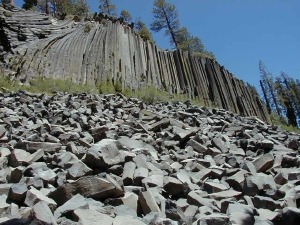 The Department of Interior has just released a report that shows the National Park System contributed more than $31 billion to local economies and supported 258,000 jobs in 2010.  Locally, the report on Devils Postpile National Monument shows a large financial and job contribution to our communities.
These reports came out as part of President Obama's Executive Order to promote travel and tourism in the United States. Secretary of the Interior Ken Salazar is quoted as saying, "By investing in our parks and promoting them to visitors, especially internationally, we can have the dual benefit of an improved National Park System and a stronger economy that produces more jobs.
Deanna Dulen, Superintendent of Devils Postpile National Monument issued a news release that says the new National Park Service report shows that nearly 100,000 visitors in 2010 spent more than $2.8 million in Devils Postpile and in communities near the park. That spending, she said, supported 41 jobs in the local area.
Superintendent Dulen said, "Devils Postpile National Monument illustrates its value, as a constantly renewing resource, that provides sustainability with its ecotourism values of natural beauty and renewal for the human spirit.  It's our clean, green energy for the engine that drives our local economy," she said.
Dulen said most of the spending and jobs are related to lodging, food and beverage service (52%) followed by other retail (29%), entertainment/amusements (10%), gas and local transportation (7%) and groceries (2%).  Find the entire report at: http://www.nature.nps.gov/socialscience/products.cfm#MGM  Click on Economic Benefits to Local Communities from National Park Visitation and Payroll, 2010.
We asked Dulen about the opening of the Postpile and Rainbow Falls considering the massive downed tree problem from the November windstorm.  She said that due to the dry winter, some work has gone on since December. Dulen said the NPS and Inyo National Forest are working closely together to get the area open as early as possible.  She said  90% of the Reds Meadow visitors go to Devils Postpile and Rainbow Falls.  So they are top priorities.
In addition to clearing trails, crews must carefully assess hazard trees. Dulen said the NPS and INF are having meetings over the clean-up plans every couple of weeks.