The smoke and fire that devastated the Bishop Vagabond Inn has cleared. What remains is a burned out shell which a fire investigator believes is a total loss.
It was Thursday morning when ferocious flames leaped out of the back of the Inn. Unconfirmed reports said some guests jumped from the top floor to escape the sudden fire. Units from Bishop, Big Pine, Independence, Mammoth and other agencies responded. Firefighters had trouble getting the flames out in the crawl space.
Bishop Police Public Information Officer Katie Coffman said that she had walked the fire scene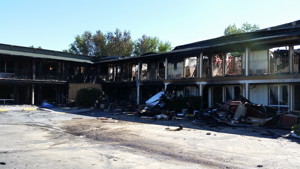 with a Cal Fire investigator from Hesperia. She said the investigator believes criminal activity was not involved in the fire. Coffman said 43 rooms were lost plus 5 utility rooms. She said the Vagabond is reviewing the structural damage. Coffman also said the investigator believes the Inn is a total loss, with an estimated monetary loss in the millions.
The City of Bishop building inspector will also review the building for possible red tagging and removal. Bishop Public Works dealt with another issue – all the water used to put out the fire flooded the grounds of the nearby mobile home park. Coffman said there was no actual damage to any of the trailers. Public Works used a pump to clear the water out.
We have been unable to reach Vagabond for their comments. It is known that as many as 60 guests were evacuated from the motel when the fire started. 22 of them, mostly from other countries, went to the shelter at the Charles Brown Auditorium where they were helped with replacement of their passports.