What the government can do about empty commercial space in downtown Bishop came up at the Bishop City Council meeting Monday. The now fenced-off Cottonwood Plaza has pushed the issue to front and center, but other properties like the old Kmart building were also discussed.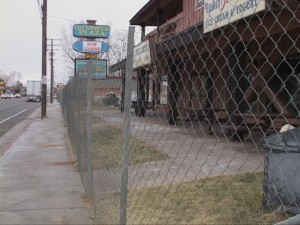 For the second council meeting in a row, City Administrator Rick Pucci took time to explain that the City could do very little to force private property owners to deal with empty buildings. After a windshield survey, city staff counted over 20 vacant commercial properties on Main Street in Bishop.
We dont like to see it, he said, but its the owners prerogative. Between encouraging a public good and trampling private property rights, the administrator says, we walk a fine line.
The old Kmart building is not abandoned, according to Pucci. Rent is being paid on a monthly basis, but the lessee would rather have that property empty then filled. Unless there is a building safety issue, fire code issue, or law enforcement issue, the city has no jurisdiction, Pucci explained.
Council member Jeff Griffiths said that some business owners, given the boot from Cottonwood Plaza, have had trouble finding new commercial space despite the vacant storefronts downtown.
Griffiths asked if the City could create a fine for building owners who choose to leave buildings empty. I doubt it, said City Attorney Peter Tracy. Unless there were safety issues with the property. Tracy explained that there might be serious constitutional issues, with such a fine.
While there were no decisions to be made on the table, the issue of vacant downtown property is likely to continue to simmer.