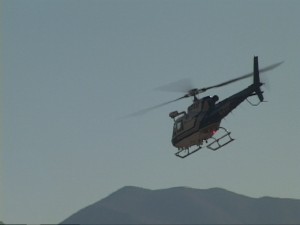 On Saturday April 26, 2014, at approximately 3:40pm, California Highway Patrol (CHP) dispatch received a cellular 911 call from a female subject stating she was on a mountain and has a broken leg. CHP dispatch informed Inyo County Sheriff's dispatch of the call.  Due to the poor reception of the female subject's cellular telephone, Inyo County dispatch was able to communicate through text messages.  The female subject said she and her friend were above Red Lake on Split Mountain; she provided coordinates and an elevation of 12,435 feet.  
 CHP H-40 located the two subjects shortly after 5:00pm.  In order to compensate for the additional weight, the helicopter had to unload gear at the search and rescue staging area at Mendenhall Park in Big Pine.  By 6:00pm, CHP H-40 notified Inyo Search and Rescue that both subjects were on board and heading back with the injured hikers.  The female subject, 48 year old Hildegard Smith, had a broken left leg and the male subject, 45 year old Scott Romero, had a head injury.
According to information provided by Romero, both he and Smith came from Salt Lake City, Utah, to do some climbing.  Romero said they left the trailhead at 5:30am to climb to the top of Split Mountain, and that they summited the peak at about 1:30pm.  As they were making their way back down, a ledge they were standing on gave way.  Romero said he and Smith fell to the ground and started to slide down the mountain on the snow.  Romero said they slid for about 1000 feet before he and Smith came to a stop.  Romero said Smith was able to call 911 and advise they needed help. Both Smith and Romero received initial medical attention from Big Pine Fire Department and Symons Emergency Services, then transported to Northern Inyo Hospital.
A big THANK YOU goes out to CHP H-40 for their assistance in rescuing Romero and Smith!