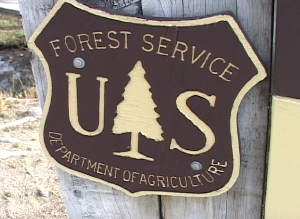 Since the government recently re-opened, the Forest Service also re-opened some campgrounds in the Eastern Sierra. However, since it is so late in the season, some concessionaires have chosen not to do the same and there is no water or trash service.
In the White Mountain and Mount Whitney Ranger Districts, Ranger Margaret Wood said that campgrounds are re-opened with no water and no trash service. They are the Holiday Campground in the Rock Creek Area, Bitter Brush in the Bishop Creek area, Lower Grays in Independence, Lone Pine Campground, Backpacker and Equestrian in the Horseshoe area and Grandview in the White Mountains.
In the Mammoth and Mono Lake Ranger Districts, Ranger Jon Regelbrugge said Lower Lee Vining Campground and Glass Creek Campground have been re-opened. He said the Forest Service will evaluate use to determine if it is appropriate to re-open others. But Regelbrugge added that many of the Forest Service campgrounds are operated by California Land Management under special use permit.
Regelbrugge said when the Forest Service notified CLM that their permit to operate had been suspended due to the government shutdown, they advised that it was their intent to close the campgrounds they operate for the season. He said the same holds true now – CLM will not re-open campgrounds until next spring.
CLM holds permits for a number of campgrounds on the Mammoth and Mono Lake Ranger Districts. Regelbrugge said this includes Shady Rest and Sherwin Creek plus the Mammoth Lakes Basin, Reds Meadow areas, June Lake Loop area and Lee Vining Canyon. He did say that by late October, usually only two or three campgrounds remain open.