USDA Forest Service Pacific Southwest Region Helps Commemorate
OHV Safety Awareness Week, May 15-23
California State Parks' Off-Highway Motor Vehicle Recreation (OHMVR) Division and partners are launching OHV Safety Awareness Week on May 15-23 with the theme of "Know Before You Go." Simple actions such as learning the rules of riding, scouting routes, being prepared, filing a riding plan, using required equipment, never riding alone, treading lightly and knowing riding limits can help further promote safety in California's vehicular recreation sites and help protect the natural resources that make these public outdoor spaces special.
The USDA Forest Service Pacific Southwest Region is a longtime partner of the California State Parks OHV program. Over the years, this program has provided essential support in our effort to designate roads and trails for motorized use throughout the 18 National Forests in California. Today, every forest in California has a Motor Vehicle Use Map (MVUM) which guides the public to an extensive number of OHV recreation opportunities that are compatible with the ecosystems we manage.
"With the 'Know Before You Go' message, State Parks is reminding off-highway vehicular users on the importance of knowing the rules of riding prior to heading into the outdoors," said OHMVR Division Deputy Director Sarah Miggins. "Together we can further protect our state's natural and cultural resources and maintain vehicular recreation areas for future generations to come."
"We are proud to partner on the annual OHV Safety Awareness Week – and celebrate the OHV program's 50th anniversary," said Regional Forester Randy Moore, from the USDA Forest Service Pacific Southwest Region. "With record setting visitation to our 18 National Forests in California since last spring, OHV safety is more important than ever.  We very much appreciate the efforts of all OHV partners in working together to develop educational opportunities for safe and responsible OHV use."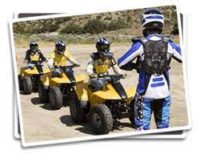 Working together with the Tread Lightly! Initiative, California Highway Patrol, Outdoor Recreation Foundation, ATV Safety Institute and Recreational Off-Highway Vehicle Association, the OHMVR Division will be providing a mix of safety messages and activities during OHV Safety Awareness Week, using park interpretive programs, in-person events (as COVID-19 safety guidelines allow) and via social media platforms. Additionally, the ATV Safety Institute and the Recreational Off-Highway Vehicle Association are teaming up with the division to provide free all-terrain vehicle and recreational off-highway vehicle training. Activity schedules and sign-ups for the free training can found on the California Outdoor Recreation Foundation website at outdoorrecreationfoundation.org.
Below are safety tips that the OHMVR Division will be sharing during OHV Safety Awareness Week for new and experienced riders:
Learn the Rules of Riding: There are laws specific to operating off-highway vehicles on public lands. Learn about them by visiting the webpage of your outdoor destination prior to leaving home and take a training course.
Scout Your Route: Each vehicular recreation area has a vast and diverse mixture of geology for riders exploring in their motorcycle, ATVs, dune buggies or 4x4s; learn about the various trail experience levels and terrain to avoid emergencies.
Be Prepared: Know which supplies you need to have for a successful ride. Be prepared with a first aid kit, extra water and food, maps, a tool kit and extra fuel.
File a Riding Plan: Tell a responsible person back at camp or at home where you are going and when you plan on returning. Ask that person to notify local law enforcement if you do not return on time.
Use Required Safety Equipment: Know which gear is required for your type of recreation to prevent injury. Always wear protective gear, including a safe, well-fitting helmet.
Never Go Alone: Always ride with at least one other person, but preferably in groups of three. If one rider is hurt, someone can stay with the rider while the other one gets help. Never move an injured rider.
Tread Lightly: Know where to ride, and ride only on designated routes and trails. Be sure to check ahead for open trails. Remember, wildlife has the right-of-way.
Know Your Limits: Know the rules, your skill level and how to maintain your vehicle. Only operate at speeds in which you can maintain control at all times. Do not ride faster than your talent and never operate a vehicle under the influence of alcohol or drugs. Keep your speed under 15 mph when riding near campsites or groups of people.
Furthermore, the USDA Forest Service Pacific Southwest Region encourages all visitors to Ride On and Stay On the designated routes, trails, and areas within California's public lands. RIDE ON Designated Routes in California is a statewide campaign that has united land management agencies to educate outdoor recreationists who use motorized vehicles on California's public lands in accordance with the Travel Management Rule (TMR). Additionally, please avoid sensitive areas like meadows and stream corridors.
OHV Safety Awareness Week is an integral part of the OHVMR 50th Anniversary, which is being commemorated throughout 2021. In October 2020, the California Off-Highway Motor Vehicle Recreation Commission passed a resolution dedicating the third week of May and October to promote and focus on safe and responsible OHV practices.
The Off-Highway Motor Vehicle Recreation Program was created in 1971 out of the critical need to better manage growing demands for off-highway recreation, while fostering respect for private property rights and protecting California's natural and cultural resources. Today, there are nine state vehicular recreation areas across California: Carnegie, Clay Pit, Eastern Kern County Onyx Ranch, Heber Dunes, Hollister Hills, Hungry Valley, Oceano Dunes, Ocotillo Wells and Prairie City.
For more information about the OHMVR Division, including grant opportunities, please visit ohv.parks.ca.gov.
For more information about the USDA Forest Service Pacific Southwest Region, please visit https://www.fs.usda.gov/r5/.