Forest Service update
The Marina Fire started at approximately 5:30 am on June 24 and has grown to about 600 acres. The fire is located north of Lee Vining and west of Highway 395 and is burning in pinyon and brush. The fire did spot across Highway 395 this afternoon south of Mono City pushed by strong down canyon winds.
Highway 395 is closed at the town of Lee Vining on the south and in Hawthorne, NV on the north until at least 6:00 am on June 25. The Tioga Lodge and two additional residences have been evacuated. Lee Vining and Mono City are under an evacuation advisory.
There are approximately 300 personnel on the fire. A Type 2 team has been ordered and will in brieftomorrow before assuming command of the fire.
Helicopters, fixed wing aircraft, hand crews, and engines are being used to fight the fire.
The fire is under Unified Command with the US Forest Service and Mono County Sheriff's Office.
The fire has been determined to be human-caused and remains under investigation.
Forest Service
A few brief updates on the fire:
It's now estimated to be 350 acres and crews continue to focus their efforts the nearby communities and the highway.
The Tioga Lodge has been evacuated and Lee Vining is under an evacuation advisory. Several powerlines have been de-energized for firefighter safety.
This is affecting Bridgeport. SCE is working to get the power back up through other lines. Hwy. 395 remains closed.
###
Fire crews are responding to the Marina Fire, which is north of Lee Vining and west of Highway 395. The fire is approximately 200 acres in size and is burning in pinyon and brush.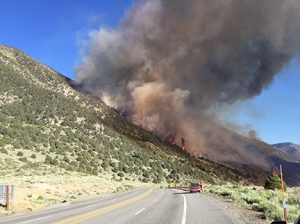 Highway 395 is closed in the fire area at this time.
Numerous firefighters, several engines, and a dozer are on scene. Additional resources are en route, including helicopters and air tankers.
The cause of the fire is under investigation.
Caltrans press release
Bishop, CA – The California Department of Transportation would like to notify travelers that US Hwy 395 in Mono County near Lee Vining is closed due to a wildfire adjacent to the highway.
This is estimated to be a short term closure.  The traveling public should avoid this section of highway, and plan an alternate route.
Suggested Detour:
Northbound US Hwy 395 (Mono County)
Take State Route 120 East towards Benton.  At US Hwy 6 go north to Nevada State Route 360, and north of US Hwy 95 to the junction of State Route 359.  Go West on SR 359 to State Route 167 which will take you back to US Hwy. 395.
Southbound US Hwy 395 (Mono County)
Take State Route 167 which turns into Nevada 359 to the junction of US Hwy 95.  Go south on US Hwy 95 to State Route 360.  At the junction of US Hwy 6 go south to US Hwy 395.
Inyo National Forest crews are working to extinguish the fire and Caltrans crews are on site assisting travelers.
#
For the latest in highway information please visit Caltrans QuickMap site at quickmap.dot.ca.gov or call our Road Condition Hotline at 1-800-427-ROAD (7623).