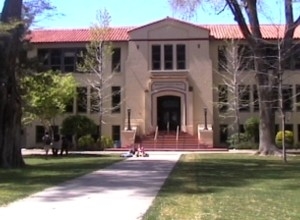 Recently a series of events has occurred that has resulted in the student body losing one of their most positive, creative, more importantly, influential teachers, Zach Quintana.
This series of uncontrollable events has sparked a revolution amongst students and faculty. The actions taken by the administration to minimize the outbursts have only made them louder, and more clear.
It is well within the rights of the students to express their displeasure towards the school's decisions. The immediate action taken by staff to place Mr. Quintana under administrative leave due to their "Loss of control" over the students was ill-considered and unwise. Any hope the administration had of containing this eruption of disapproval quickly diminished. Instead, this decision resulted in more shock, outrage and anarchist behavior.
Students were constantly hearing empty threats of having the senior field trip revoked, the senior picnic canceled, even having teachers physically ripping taped "Team Quintana" papers off of students. It is because of these poor decisions that the students feel the need to be heard, reach out amongst one another, and protest against such unprovoked actions. These actions taken by the staff and administration are beyond unjust, completely unprofessional and downright outrageous.
The consequences of these actions have taken a toll on the whole Bishop Union High School attendees. Staff members have lost a valued member of their team; the administration has lost an important employee; and the student body has lost an incredible teacher, role model, and a friend.
This imposes a few critical questions. Was the decision to remove Mr. Quintana from his teaching position before the end of the school year a prudent, and reasonable choice? Was leaving the students with this memory of the BUHS's administration the wisest decision? And last, is the administration willing to revoke their actions, and allow us our last moments with our dear friend?
Sincerely,
Joshua Cash