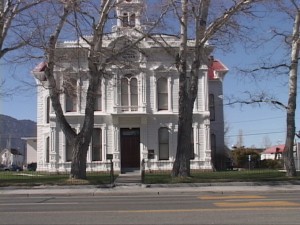 The long and public appeal hearing of fired Mono County mechanic, Dick Luman, has ended. His attorney reports that the Personnel Board deliberated and found against Luman, sustaining his termination.  A written decision is pending.  That document is expected to explain the reasons for their decision.
Attorney Katie Bellomo said that she and Luman do know that the vote in his appeal was 2 to 1.  Undersheriff Ralph Obenberger and employee Ken Goode voted to sustain Luman's termination.  Supervisor Tim Hansen voted to reinstate Luman. Hansen indicated he would issue a written dissent.
Last October, Luman accompanied a fellow worker, Jim Kerby who wanted to meet with a Public Works supervisor, Jerry Vande Brake to complain about Road Department Manager Brett McCurry's allegedly hostile behavior.  McCurry came into that meeting, words were exchanged and Luman said McCurry threw him against some tool bins.  Two eye witnesses said McCurry was the aggressor, and a third ended up  changing his testimony and blaming Luman.  Both Luman and McCurry were fired.
In her closing statement, attorney Bellomo said that the County had not "met its burden of proving by a preponderance of the evidence that the termination of sixty year old mechanic Dick Luman was justified."  She pointed to Brett McCurry's appeal getting underway this week with what she described as "two of McCurry's closest friends" sitting on the appeal board.  Bellomo called the County's investigation of the circumstances into Mr. Luman's termination "incomplete."  She said the County blamed Luman to "deflect attention from the County's failure to address a hostile workplace problem."
Bellomo points to the two men who saw the altercation and their unswerving testimony that McCurry was the aggressor.  She also pointed to manager Jerry Vande Brake who at first said he did not see the fight and then later claimed Luman started it. His change of view was documented in a report done by Mono County's insurance investigator.  Bellomo pointed out that it was Vande Brake who "failed to deal with hostile workplace complaints about Brett McCurry brought to him by several employees."
Bellomo said that the altercation left Luman with "fractured ribs and a hernia requiring an operation."  Now, she and her client await the Personnel Appeal Board's written rationale for their decision.