– Inyo County District Attorney press release
An Inyo jury found Bishop area resident Tashina Chavez guilty of assault by means of force likely to produce great bodily injury and battery causing serious bodily injury.  The jury also found to be "true" a special allegation that Ms. Chavez personally inflicted great bodily injury.  The verdicts followed a four day jury trial that commenced on June 8, 2015.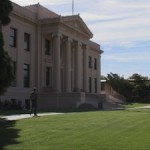 The offense occurred on June 9, 2014.
The case is now set for sentencing in Independence on July 7, 2015 in Independence.  Chavez is facing up to seven years in state prison.
The case was prosecuted by Deputy District Attorney Michael Turner following an investigation by the Inyo County Sheriff's Department.
###
Kenneth and Dawndee Rossy will go to trial this fall on charges of embezzling $1.5 million from the Inyo county Department of Health and Human Services.
Appointed Judge Phillip Argento set the court date, Oct. 27 in Independence, at the couple's court appearance last Friday. The Rossys were arrested two years ago on 44 felony counts including the primary embezzlement charge.
The Rossys have been out on bail since April 17, 2013.
– Deb Murphy