As the storm moved into the Eastern Sierra, heavy rains began to fall. In Bridgeport, that fact turned into a mini-disaster.
A project was underway at the Mono County Jail to replace the roof on the entire complex. The old roof had been stripped away. Undersheriff Ralph Obenberger said that the roof removal left a concrete covering with seams exposed. The heavy rain seeped into the seams, ran through the roof and out the ceilings in all of the Jail facilities.
Undersheriff Obenberger said that the jail, administrative offices and records office were all flooded. Tarps now protect computers and the offices from the ongoing rainwater flowing into the buildings. Ceiling tiles have fallen down. Some computers were lost. The Dispatch Center is covered with tarps and the 911 computer is still working.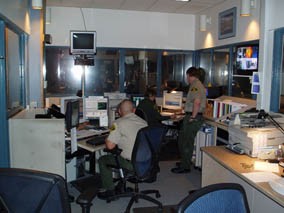 Mono County Public Works launched the roof project. Why did they choose October? The Undersheriff said thats a question for Public Works. Obenberger said Public Works personnel were in the Sheriffs facility to try to protect whats left. He said that Mono County will now have to hire companies to re-hab the facilities. They will have to replace ceiling tiles, carpet, insulation, said the Undersheriff. Who will pay for this? That was unknown at this hour.
The conditions led to the release of about 10 prisoners who will be re-sentenced later or released on their own recognizance and serve their time later.
20 to 25 other prisoners were transported to the Inyo County Jail. Inyo Sheriff Bill Lutze said that he and his officers were getting prepared for their visitors. Lutze said he had room in the typically nearly full jail.
Lutze said that his people got booking in place to receive the Mono inmates. Asked if Inyo had enough food for twenty extra prisoners, Lutze said yes, they had plenty of food.
(Photo: From MCSO website before the flood)
It was unknown how long the Mono inmates would stay bunked in Inyo. Its a logistical problem for Mono County officials who will have to arrange for prisoners to be transported from Independence to Mono County courts.