Press release
*Whitney Portal Road UPDATE: The protective slurry has been placed over the damaged sections of the road where the rockslide occurred. The road is currently under the standard winter closure.
*Horseshoe Meadows Road UPDATE: There has been a site survey preformed and a plan is currently being developed for site stabilization and repair.
*Onion Valley Road UPDATE: Road crews are anticipating beginning work this week; however the extent of the road work is currently unknown.
*South Lake and Sabrina Roads UPDATE: Once an official snow measurement has been determined, the Inyo County Road Dept will be able to assess when it is safe to attempt road cleanup and/or repair work.
A big thank you to everyone who has been patient – this winter has brought historic amounts of snow to the Sierra and with that, the associated rockslide road damage.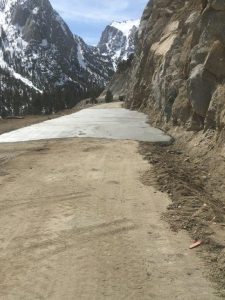 Please continue to be patient as road crews do their best to get these roads cleared and safe