By Deb Murphy
Projects submitted by the Bishop and Big Pine Paiute Tribes and June Lake Public Utility District got the green light at last month's Inyo-Mono Integrated Regional Water Management Program. The next step: full grant proposals for approval by the California Department of Water Resources for funding from Proposition 84 monies.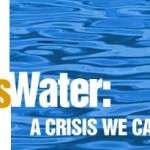 The fifth area proposal, the Big Pine recycled water project, was covered on Sierra Wave last month.
The Bishop Paiute Tribe proposals both focus on water conservation. The priority project, requesting $270,648, includes 200 smart domestic water meters with Supervisory Control and Data Acquisition Systems allowing those meters to be read from the Reservations communications tower. The existing 585 meters will also be connected for reading. The goal of the project is water conservation on the Reservation and rates that will sustain the Public works Department.
The goal of the Tribe's second proposal is conservation of both irrigation water from Bishop Creek and domestic well water by developing engineering plans for systems improvements that are efficient and cost effective. According to the proposal requesting $176,712, the Reservation's domestic, irrigation and sewer systems are in need of repair and rehabilitation. The proposed start date on both proposals is early 2016 with completion scheduled for June 2017.
The Big Pine Paiute Tribe is looking for Prop. 84 funding to replace 38 fire hydrants on its public water system for a cost of $225,300. In addition to the danger of wildland fires in the community, there have been seven household fires on the Reservation in the last 10 years. According to the proposal, the hydrants being replaced have either "reached the end of their useful life" or no longer have parts available.
Faced with high uranium levels in June Lake, the JLPUD applied for a $213,625 grant to purchase and install an ion exchange filtration system. According to the proposal, the uranium levels that exceed the California requirements are due to drought-related low water levels on June Lake. The district has been blending June Lake water with its other surface water source on Snow Creek, but due to the 5-percent snow pack, creek water will be low through the year.