By Deb Murphy
Area shoppers who have squeezed into the parking lot off Warren Street, north of JC Penney, can rejoice. By May there will be noticeably more room to both park and maneuver.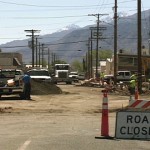 The aisles and spaces will be widened and the lot will have a name, "Sycamore Square," as part of the Warren Street Project. The Bishop City Council approved adding the lot improvements to the project at Monday's meeting.
Sycamore Square was part of the original project design, but not the construction option approved by the Council. "We went with the middle option," Public Works Director Dave Grah explained, "with the intent of adding elements as we went along" and saw that the money budgeted would cover the additional improvements.
The parking lot will now include the alley next to JC Penney, allowing for more vehicle wiggle room. The lot will be re-paved and feature tree planters on the east side of the lot, to compensate for trees that had to be removed to accommodate the project. There will also be enough funding within the construction cap of $1.997 million to extend improvements north to include sidewalk improvements on Pine Street, Grah said.
The total budget, including design fees and staff time, is $2.142 million.
###
City of Bishop press release
Concrete work on the City of Bishop Warren Street Improvements project is expected to continue on Warren between Academy and Pine.
In following weeks, concrete work is expected to move back to Academy between Main and Warren and then move to a parking lot on South Warren.
The relocation of an underground phone cable has interfered with the work on the north side of the Warren and Academy intersection. A delay in getting the new cable could push the completion of work in this intersection into early May. Before this delay came
to light, the contractor was planning to have the entire project complete about the
beginning of May.
The intention is still to have the entire project complete before Mule
Days.
Construction on and near Warren Street in downtown Bishop involves the closure of streets, intersections, sidewalks, and driveways. Access is still available to businesses in the area but, in most cases, it would be better to park nearby and walk a block to visit your favorite local business. Access to city parking lots is normally still available during construction, but entrances may be different and driveways and parts of the lots may be closed due to the construction.
Equipment, workers, excavations in the street, uneven pavement, and other hidden hazards require attention, even when work is not underway. When signs say a road is closed, please don't drive on it. There are probably hazards you are not aware of.
The contractor on the project normally works 7 am to 5 pm Monday through Thursday and has Fridays off.
For more information contact City of Bishop Public Works at [email protected]
or 760-873-8458.