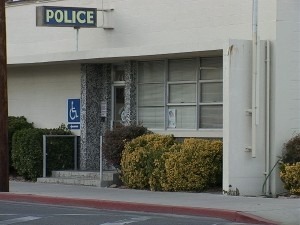 (Press release from Bishop Police Public Information Officer Katie Coffman)
On Tuesday February 28, 2012 at 1:54pm the California Highway Patrol responded to a vehicle accident, which occurred south of Lone Pine near Boulder Creek. On arrival, officers made contact with  a male driver and a female passenger. The California Highway Patrol, along with the assistance from the  Inyo County Sheriff's Department located items of property in the vehicle which had been reported stolen through the Bishop Police Department. Bishop Police was contacted by Inyo County Sheriff's Department regarding the stolen property.
Bishop Police Officers responded to the Lone Pine Sheriff Station in order to confirm some of the property located inside the vehicle as stolen. It was determined several items taken from our previous  burglary, located at 611 W. Line Street were inside the vehicle. The Inyo County Sheriff's Department
currently has all property held in evidence at this time.
At the scene of the accident, RINEHART, Joseph Edward was arrested for several drug charges; vehicle theft;
driving under the influence; and possession of stolen property. The female passenger was also arrested for
numerous charges by the Inyo County Sheriff's Department.
RINEHART is currently at the Inyo County Jail awaiting arraignment on his current charges. The Bishop
Police Department will be filing 459 PC-Burglary charges on RINEHART. It is not determined at this time
the involvement the female passenger has with RINEHART or the burglary in Bishop. The investigation is still ongoing at this time.