USFS news release
Georges Fire
The Georges Fire is a lightning-caused fire that started on July 8 north of Lone Pine, west of Manzanar National Historic Site, and south of Bairs Creek.
The fire was actively suppressed along the Owens Valley to protect life and property such as Whitney Portal, Lone Pine, and Manzanar National Historic Site. Due to fire activity, the Whitney Portal area was evacuated and closed for two days. No structures have been destroyed. Monsoonal moisture helped slowed the fire's growth.
While these areas in the valley floor are now safely contained, much of the western fireline of the Georges Fire is in steep, inaccessible terrain as the fire burned into the mountains of the Eastern Sierra. Firefighters cannot access this flank of the fire. As such, firefighters are using a confinement strategy in this area.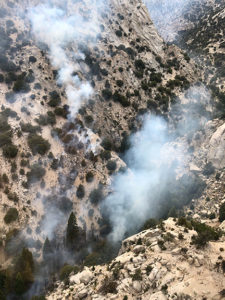 There may be continued fire activity as fuels dry out and fire activity picks up. The fire will eventually "rock out" as the fire reaches the granite cliffs and the absence of fuel.
You may notice smoke as your drive between Lone Pine and Independence or as you head to local trailheads. Please DO NOT REPORT this fire. There is currently no threat to life or property.