City of Bishop press release
City of Bishop water customers continued to conserve water in August, using 20.9% less water than used in 2013. City water customers used about 14,000,000 gallons less in August 2015 than August 2013.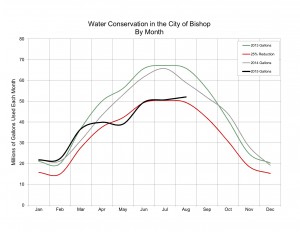 The state uses 2013 as the benchmark when measuring how much water is being conserved this year. The attached graphs show water use in 2013, 2014, and so far in 2015. One graph shows water use by month in the city and the other graph shows total water use in the city for the year.
The graphs show that water use in Bishop in 2015 is a lot less than it was in 2013 and 2014. Updated graphs are released monthly. The State of California required that the City of Bishop implement water conservation measures to achieve the state-required 25% reduction in water use in 2015 compared to 2013.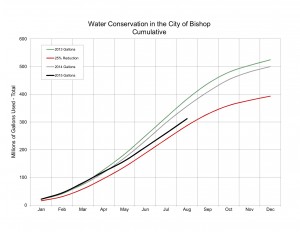 The water conservation measures in place in the City of Bishop can be found at http://www.cityofbishop.com/wp-content/uploads/20150414WaterConservationMeasures.pdf.
In December, the city will have to report to the state how well its users have conserved water. The city could be subject to $10,000 per day fines if it doesn't meet the 25% reduction in water use.
To avoid the fines, it will be especially important that Bishop water users cut back on irrigation as the days get shorter and cooler into the fall. It is easy to keep watering this time of year like it is still the long hot days of summer, but it is time to cut back.
Also, the state prohibits watering during and within 48 hours after it rains. Saving water saves money, reduces water rates, protects groundwater, is the right thing to do, and is now required by the state.
Contact the City of Bishop Department of Public Works at 873-8458 for more information on water conservation and the City's water system.