Caltrans news release
Bishop – The California Department of Transportation (Caltrans) has the following weekly construction update for the Bishop ADA Project. Utility relocation and preliminary activities will continue through this week.  The contractors are scheduled to start with the installation of construction signs the week of Monday, March 19th and will continue with preliminary activities.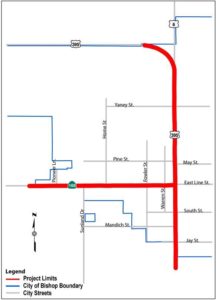 Construction work will begin the evening of Sunday, March 25th at the southeast corner of West Line Street and Sunland Drive. Hours of construction are expected to be from 7:00 pm to 6:00 am.  Contractors will be removing and replacing sidewalks, curbs, gutters, and driveways.  Eastbound traffic will be detoured into the two way left turn lane in the area of active construction and traffic signals will be changed to flashing red (stop all directions before proceeding).  Access to businesses and services will be closely coordinated with affected owners to minimize disruptions.
The Bishop ADA Project will improve pedestrian access for all residents and visitors to Bishop.  It is one of Caltrans' projects to improve ADA accessibility to pedestrian facilities throughout the state.
For the safety of workers and other motorists, please Be Work Zone Alert.  Pending weather and unforeseen circumstances, scheduled construction activities are subject to change.
For more information about the project go to the project web page located at: http://www.dot.ca.gov/d9/projects/bishop_ada/index.html or you can contact Florene Trainor, Caltrans District 9 Public Information Officer at 760-872-0603.