Press release
Last Friday morning, the Mammoth Lakes Town Council visited the ongoing North Village Sidewalk Improvements. Mayor Shields Richardson spoke about the need to provide enhanced pedestrian infrastructure in The Village along with improved transit amenities for our many residents and visitors.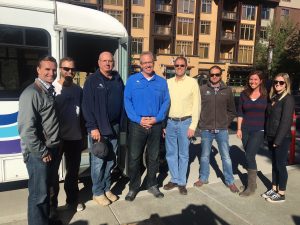 The improvements will enhance pedestrian, bicycle and vehicular mobility in the area and will also serve to enhance overall Town circulation. The highlight of the project is a new bus shelter and a large bus turnout.
This $928,692 project was awarded to Spiess Construction Co Inc. on August 3, 2016 by Council. Funding was derived from The North Village Area Community Facilities District (CFD) and the North Village Benefit Assessment District.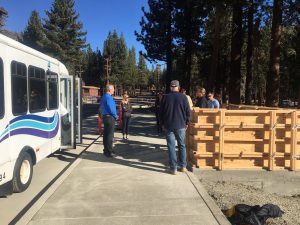 The project begins just north of the northerly property line of the Burgers Restaurant Parcel and continues north to Forest Trail. It then continues east along the south side of Forest Trail from Minaret to Berner Street.
Enhancements in the North Village area along Minaret Road, Forest Trail and Berner Street includes a paver sidewalk consistent with the west side of the road. In addition, street lighting, a bus turn out sized for two buses, bike lanes, transit shelter, parallel parking, and a pedestrian activated red light crosswalk (HAWK) are also included in the project.
Also included are sidewalk improvements to the southwest corner of the intersection of Minaret and Forest Trail.
The proposed improvements are consistent with the requirements of applicable development agreements, the North Village Specific Plan, Transportation and Circulation Element and the Town's Bicycle Plan, Pedestrian Plan and Mobility Element.
Work is scheduled to be completed this month prior to the commencement of the 2016/2017 ski season on November 10.