Press release
After nearly a year of working to install a new and enhanced Compounding Pharmacy at Northern Inyo Healthcare District, it now looks as if NIHD is on track to complete the first phase of the project in the next two to three months.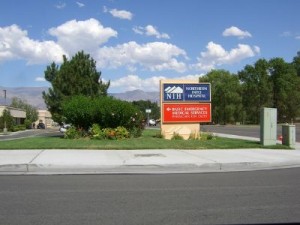 Chief Executive Officer Kevin S. Flanigan, MD MBA, updated NIHD leaders on the progress during Wednesday night's Board of Directors meeting.
Dr. Flanigan recapped the project's timeline, detailing months and months of meetings with state regulatory agencies, architects, engineers and construction teams. At one point the project was even brought to the attention of State Assemblyman Devon Mathis, in hopes of garnering his support in case the project encountered any additional bureaucratic hurdles.
"In the end, every meeting, every conference call, every moment was well worth it," Dr. Flanigan said. "This will allow us to continue operating our Infusion Center, a service many of our patients rely on. Our team did not want to fail our patients, and I am thrilled to report that we did not fail. Persistence and patience saved this service."
The Infusion Center offers the intravenous administration of medication, most often used when oral medications will not work. For many people, chemotherapy is the most familiar type of Infusion Therapy. Other types include intravenous antibiotics and therapeutic infusions such as iron replacement. Estimates show NIHD's Infusion Center provides between 2,500 and 2,600 infusions or injections on an annual basis.
In other NIHD news, Dr. Flanigan reported that NIHD leadership is working diligently to get the district's budget solidly back to black after experiencing an off-year.

The CEO's comment came after a financial report from John Tremble, NIHD's Interim Chief Financial Officer. Tremble stated that after all necessary end-of-the-year adjustments, yet before finalization of the annual audit, NIHD was in the red for Fiscal Year 2016-2017 by $1,022,000.
"This is something we've discussed as we've developed our current Strategic Plan," Dr. Flanigan reminded the Board. "We are transitioning from a reliance on inpatient-based revenue to an approach that puts patient wellness first, and that will place a budgetary emphasis on our outpatient care. We were repeatedly told the transition would be bumpy at best — something we certainly experienced this past fiscal year."
Dr. Flanigan noted NIHD's Administration team, directors and managers are working to secure a better footing for the current fiscal year. He told the Board he anticipated some budget workshops with them to cover specific financial topics.
On a more positive note, the Board was asked to approve the designation of Registered Dietician Amber Morin as NIHD's new Dietary Director, an action required by state regulation. Dr. Flanigan said Morin has had a dramatic impact on the facility since signing on almost a year ago. He credited her leadership with many positive changes for patients and for the Dietary Department.
The Board of Directors unanimously approved Morin's appointment.
About Northern Inyo Healthcare District: Founded in 1946, Northern Inyo Healthcare District features a 25-bed critical access hospital, a 24-hour emergency department, a primary care rural health clinic, a diagnostic imaging center, and clinics specializing in women's health, breast health, orthopedics, internal medicine, pediatrics and allergies and general surgery. Continually striving to improve the health outcomes of those who rely on its services, Northern Inyo Healthcare District aims to improve our communities one life at a time. One team, one goal, your health.