Caltrans press release
Bishop, CA – The California Department of Transportation is continuing to clear mud, debris and vehicles from State Route 58 between Mojave & Tehachapi.  Due to a flash flood that occurred Thursday, October 15, 2015, mud flowed from the surrounding mountains onto State Route 58 at approximately 4:30 p.m. The highway closed to through traffic at 6:30 p.m. due to the amount of mud and vehicles that were engulfed by the mud.
It was discovered that approximately 1 ½ miles of roadway was covered in 5-6 feet of mud.  78 passenger vehicles, 2 buses, 36 trucks, 1 RV & 1 trailer were stuck in the mud.  Emergency personnel were able to safely remove all travelers and move them to emergency shelters.  There have been no injuries or fatalities.
As of Saturday, October 17, 2015, 51 passenger vehicles, 10 big rigs, 1 bus, 1 truck with a car hauler, and 1 box truck have been removed.  Caltrans has 35 personnel on site with 11 loaders, 5 graders, 14 dump trucks, an excavator and a fuel truck.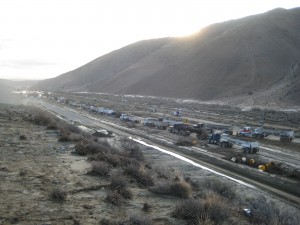 Granite Construction has been hired to assist with the excavations and mud removal.  Granite Construction has 20 employees with 7 loaders, 2 dozers, 2 excavators and 35 haulers.
State Route 58 will remain closed to the traveling public until all vehicles have been extracted, mud has been cleared and the roadway repaired.  It is estimated at this time that State Route 58 will reopen by Thursday, October 22nd.  The traveling public should avoid this section of highway, and plan an alternate route.