By Deb Murphy
Armed with what he sees as a flaw in the impermeable barrier between Mammoth's town water supplies and Ormat Technologies' expanded geothermal facility, district general manager Patrick Hayes asked the Mammoth Town Council last Wednesday to put the item on a future agenda.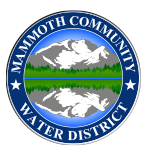 Mayor John Wentworth agreed, but he may be the only person willing to re-open that discussion.
In a press release and at the Council meeting, Hayes maintains new information from the U.S. Geological Survey "demonstrated consistent scientific evidence of a hydrological connection between Mammoth's groundwater aquifer and the geothermal reservoir."
Hayes asked the Great Basin Unified Air Pollution Control District board to reopen the environmental review process. Great Basin was the lead agency on the state CEQA process. According to Air Pollution Control Officer Phill Kiddoo, the answer was "no. The CEQA is completed."
The Bureau of Land Management Bishop Field Manager Steve Nelson had the same response to the same question—"the simple answer is no," he said via e-mail. "The BLM remains focused on working with all parties involved to implement the shallow groundwater monitoring plan that we required as a condition of approval for the project."
Because of a law suit against Great Basin filed by the Mammoth Community Water District, neither Kiddoo nor Nelson were too willing to provide a whole lot more information. But Paul Thomsen, executive director of government and regulatory affairs for Ormat had plenty to say.
He questioned the data provided by USGS' James Howle. "He gave two presentations with different results at each. The information was contradictory, the science was flawed." Thomsen claims the first tests that showed evidence of possible contamination from the geothermal reservoir was done with the testing tool buried in muck. The second test, with a clean tool, showed results consistent with an impermeable barrier between the two.
Next step: contact Howle at the USGS office in Truckee. A phone message and e-mail to Howle were referred to Laurel Lynn Rogers. Her e-mail response: "we are going to have to get back to you on Monday about this. As you are probably aware, there is the possibility of a government shutdown. If this impacts our work schedule next week, we will address your request on the first return work day."
As of Sunday evening, the government was still shut down as was any additional information on the new USGS data.