Mono County District Attorney's Office news release
On August 26, 2019 at approximately 4:43am, Mammoth Lakes Fire Department responded to a fire inside a condo at the Val D'isere complex on Hillside Drive in Mammoth Lakes. After investigation, it was determined that three separate small fires were set within the condo in an alleged attempt to burn down the condo.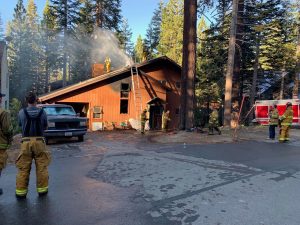 Three residents of the condo, who were friends of the suspect and asleep at the time, awoke to the fires and quickly extinguished them even before the fire department arrived. There was minor/moderate damage to the property and no one was
injured.
At approximately 5:29am that same morning, Mammoth Lakes Fire Department, while still at Val D'isere, received another 911 call of a fully engulfed residence located at 357 Grindelwald Drive in Mammoth Lakes. When the fire department arrived, the residence, which was rented by the suspect, was fully engulfed in flames. The fire department quickly put the fire out in a short period of time but nearly the entire unit was destroyed. Again, no one was injured as a result of this fire.
Patrick Riley Zepeda, 30, of Mammoth Lakes was arrested on scene of the second fire
without incident. He was arraigned on two counts of arson of an inhabited dwelling and three counts of arson of personal property on August 28, 2019.
At his arraignment, Mr. Zepeda's attorney declared a doubt as to his competence to stand trial. The judge suspended criminal proceedings and appointed two psychologists to evaluate Mr. Zepeda's current mental competence. A status conference was set for September 17, 2019 in Bridgeport. He is currently being held in the Mono County Jail in lieu of $250,000 bail.
This case was investigated by the Mammoth Lakes Police Department, Mono County District Attorney's Office, and CalFire Arson Investigators, and is being prosecuted by Assistant District Attorney David Anderson.
It is important to note that a criminal Complaint contains charges that must be proven in a court of law. Every defendant is presumed innocent until proven guilty.