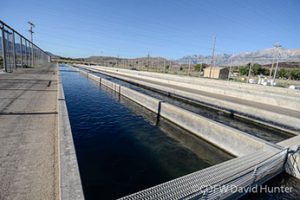 The Fish Springs Hatchery mitigation project will be the primary focus of an upcoming meeting of the Inyo County Board of Supervisors, with both a workshop and tour scheduled with the Big Pine Paiute Tribe of the Owens Valley.
The workshop is scheduled to begin at 10 a.m. Tuesday, June 21, in the Board of Supervisors
Chambers, with a presentation by the Big Pine Paiute Tribe. The meeting will then be recessed
and reconvened at 1 p.m. at the Fish Springs Fish Hatchery for a tour led by California
Department of Fish and Wildlife staff.
The public is encouraged to attend both sessions. Tourgoers are advised to wear sunscreen and
comfortable clothes, shoes, and hats.
The Board of Supervisors Chambers are located in the County Administrative Center, 224 N.
Edwards St., Independence, CA. The workshop portion of the meeting will also be accessible via
Zoom at https://zoom.us/j/868254781. The meeting may also be accessed by telephone at the
following numbers: (669) 900-6833; (346) 248-7799; (253) 215-8782; (929) 205-6099; (301)
715-8592; (312) 626-6799. Webinar ID: 868 254 781.
Zoom will not be available for the afternoon tour.
A full agenda for the June 21 meeting will be available online Thursday afternoon at: https://www.inyocounty.us/government/publications-reports-plans-proclamations/meeting-
agendas-minutes