Gas prices in California have spiked up almost another 8 cents a gallon in the past week. Disgusted consumers continue to fork out the bucks at the pumps. News reports say that supplies are plentiful, so oil companies can't cry a supply-demand crunch.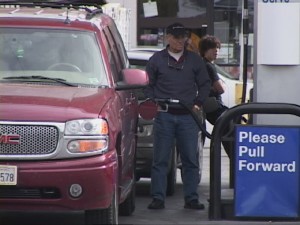 Big Oil has cried foul at Congress's bill to dump their tax breaks, all $18 billion of them. That bill has moved on to the U.S. Senate and a further promise from the President that he will veto the bill.
Locally, gas prices range from as low as $3.59 per gallon of regular unleaded in Bishop to now $4.00 in Mammoth Lakes. The average price in Bishop and the Owens Valley is $3.72.
California's price hikes in the last week are the biggest in the country, giving us the highest average gas prices. But all over the nation prices are up nearly 50 cents per gallon higher than the same time last year.
For Eastern Sierra drivers, the price hikes hurt since many have to drive 40 miles both ways to get to and from work. Eastern Sierra Transit offers an alternative to some with more buses between towns. Officials there say ridership is very good, in spite of a fare hike at the beginning of the year. They think gas prices probably contribute. February passenger rides number nearly 27,000, which is up around 2,000 over January.
ESTA does now have schedules to accommodate those who live in one town and work in another between Southern Inyo, Bishop and Mammoth Lakes.