A team of deputies stranded in the mountains? That was the report by some during the Marijuana farm raids last week.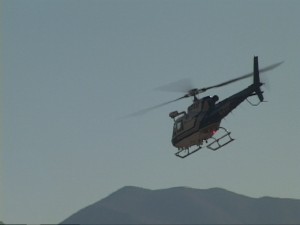 Inyo Sheriff Bill Lutze said that seven officers, including Mono Narcotics agents, Mono Deputies and Inyo Deputies, did have to hike out about a mile to a trailhead after one of the helicopters ran out of flight time.
Reports indicate some Mono officers were miffed. None of the Mono officers turned up for the operation the following day. Mono Under Sheriff Ralph Obenberger said he talked to Lieutenant Rob Weber and understood that the men weren't really stranded.
Obenberger explained that the marijuana grow was huge in length and split into three parts. The helicopter picked up two groups but ran out of flight time and could not pick up the third group. Obenberger said trucks went to the trailhead to meet the officers. The Under Sheriff said Mono officers did not return the next day because some had suffered slight injuries and they only work as a team. Obenberger said there are no problems between Inyo and Mono, maybe just some communication issues.
The seven officers caught in the mountains near Thibault were not the only ones who hiked. Inyo's SWAT Team walked in and out of the mountains for their part of the operation.