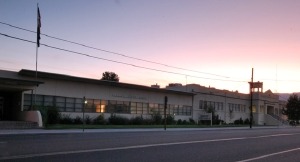 Although rumors in Bishop indicated water problems with the City of Bishop Well #1, Public Works Director Dave Grah said that well "has always been troubled" with high flouride levels and is only used in emergencies as a stand-by. Grah said the two production wells for City customers are fine.
Concerns grew for all well users in the Bishop area when seven or more domestic wells went dry in West Bishop neighborhoods. Inyo Water Director Bob Harrington said his preliminary conclusion was a lack of surface water recharge impacted the neighborhood wells.
After wells in West Bishop went dry, the City of Bishop issued a news release to assure customers that City wells were not affected by the drought so far. Officials did ask customers to conserve water whenever possible.
Public Works Director Grah said that City workers are making it a point to keep an eye on the two City production wells. He said they seem unaffected and that the City is checking them monthly plus looking for new ways to monitor water supplies.
One of the City production wells is about three miles west of the City near West Line St. Officials had earlier said that well is about 400 feet deep with the water level at about 85 feet below the surface. The second well is located near the Tri-County Fairgrounds and is about 500 feet deep. The level of the water is about five feet below the surface.