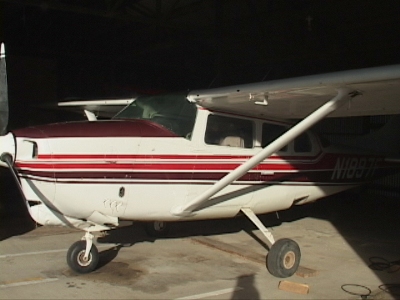 It was in January of 2009 that 55-year-old Michael Dana McEnry of Bridgeville, CA, made an unannounced landing at the Bishop Airport that nearly caused a collision with another plane. A federal court has now sentenced McEnry to 21 months in prison for flying a single-engine Cessna without a license.
A press release from the Department of Justice says that evidence presented said that McEnry tried to land at the Eastern Sierra Regional Airport in Bishop and that he was "flying recklessly and nearly crashed into an aircraft that was preparing for take off on another runway."
The release also said that McEnry touched down and then went off the runway into sage brush, made a u-turn back onto the runway and parked the plane. Evidence also revealed that when he entered the airport terminal, McEnry said, "I just sacred the (blank) out of myself. Where am I?" When he was told, Bishop, McEnry said, according to testimony, "Where is that in relationship to the rest of the world?"
An Inyo Sheriff's officer had administered field sobriety tests and McEnry failed. McEnry said he had used marijuana and Oxycontin and "always flies high." The man also admitted he did not have a pilot's license. The press release said that McEnry had flown at least 1200 hours and that the only certificate he had ever held was a student pilot certificate that expired in 1988.
Officers had found drugs in the plane and evidence of marijuana cultivation at his home.