A first for Mammoth-Yosemite Airport. A United Airlines flight from San Francisco International Airport to Mammoth. The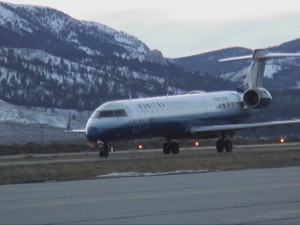 first flight arrived last Thursday to Woolly Mammoth, a large crowd and a champagne toast.
Mammoth Mountain Ski Area Marketing Chief Howard Pickett introduced United project manager Jeff Stenger and welcomed the new flight. Pickett said the flight is something a lot of people have worked on a very long time. "It's very gratifying to actually have it here," said Pickett, "and to have had such a beautiful flight today. It was easy. 30 minutes. Fast. Not a bump. It was like we were ice skating."
Pickett told Sierra Wave's Bill LeFever that the new United flight is important in two ways. He said that the new service from San Francisco brings a second "great airline partner to work with Mammoth." Pickett said the new flight also expands the numbers of seats coming from San Francisco to Mammoth Airport. He said this allows Mammoth to continue to grow that market. "Now with the San Jose flight with Horizon and the San Francisco flight with United, we've got twice as many seats as last year and we can continue to grow visitation from that market."
The big storm moved in after that inaugural flight and caused temporary closure of the airport.