Mammoth Lakes Enhances Partnership with United Airlines by Adding Los Angeles Flight Route 
Service scheduled to begin Dec. 1, 2018
Mammoth Lakes, Calif. (Press release) — In less than five weeks Mammoth Lakes Tourism and Mammoth Resorts have secured a new airline carrier for the Mammoth Lakes to Los Angeles flight route.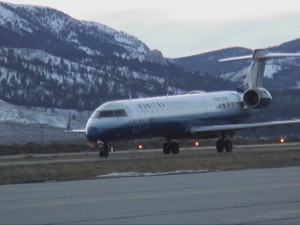 United Airlines will add new service to Mammoth Lakes, California from its Los Angeles hub at LAX this winter.
The airline will offer service beginning Dec. 1, 2018 using a 70-seat Bombardier CRJ700. Flights will run once daily, year round.
As the third largest carrier in the world, United brings a remarkably large hub and spoke system to the table, making Mammoth Lakes more accessible to visitors across the country and around the globe.
"United Airlines has been a strong partner with us for nearly a decade and adding their worldwide connectivity in Los Angeles for year round daily flights to Mammoth Yosemite Airport adds another major level to that partnership," said John Urdi, Executive Director, Mammoth Lakes Tourism.
Mammoth Lakes Tourism and Mammoth Resorts have worked with United Airlines over the years on the flight route from San Francisco (SFO) to Mammoth Yosemite Airport (MMH).
"One of our key strategies is to improve access in and around the Eastern Sierra in order to solidify Mammoth Mountain as a world-class, year-round destination resort," added Mark Brownlie, President and COO, Mammoth Resorts. "By partnering with United Airlines on the strategic development of air service into the region, we will continue to expand year-round access to Mammoth, Yosemite and the surrounding area."
Round-trip flights from LAX to MMH via United are now bookable at united.com.