Every year, motorists hit and usually kill dozens of deer and bears in the Mammoth Lakes area. Concerned citizens and local officials want to see new wildlife crossing signs on Highway 203 to give drivers fair warning. A sign proposal that does not match accepted Caltrans signs was rejected.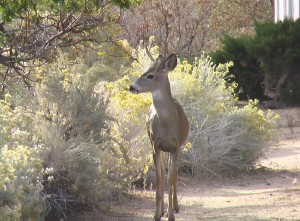 Mammoth Police Chief Dan Watson said that Marianne O'Connor of the group, Bear With Us, has worked diligently for a year to place signs on 203 and other areas of town. The Chief said that Caltrans has a catalogue of signs, but O'Connor and others liked the idea of a unique sign, similar to ones used in Yosemite which says, "Speeding kills bears". The Chief said Caltrans denied the request since the sign did not match any of its prescribed designs.
Caltrans District 9 Director Tom Hallenbeck pointed out that Caltrans had much earlier placed three deer crossing signs on 203. It seems the Town wants something new and different to catch public attention. Director Hallenbeck said that several sign permit applications have come from the Town. The first application requested removal of two Caltrans signs and the addition of bears to the deer crossing sign. Caltrans denied that. Hallenbeck said Caltrans believes deer are the issue.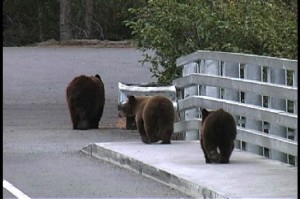 The Chief said the Town will appeal the denial. He said he polled his officers on perceptions of deer and bear accidents each year. He said he prepared an affidavit and will include this in an appeal to Caltrans.
Hallenbeck said the Town of Mammoth also requested a portable Changeable Message Sign warning of wildlife crossing. "That will be okay," said Hallenbeck. He said in a third case, a bear habitat sign "appeared near the visitors center." That was not acceptable because of wrong colors, letters and other details. Hallenbeck said Caltrans expects to see a request on this issue.