I had the opportunity to stop by a new Chinese Restaurant called the Red Lantern in the town of Mammoth Lakes.  Chinese restaurants are few and far between in the Eastern Sierra, so I was excited about the possibility!
I sat at the Chef's table adjacent to the kitchen where I met Kerry, the Executive Chef,
and Justin the Head Chef, before dining.  Justin has been trained in culinary school in Dallas and has had a 3 year stint at Nobu in Dallas as well.  He also worked the sushi bar at the Westin Hotel in Mammoth Lakes.  His credentials told me that this guy knows what he is doing when cooking Asian food!
Also Chip, the Wine Director, stopped by to serve up some amazing wines that matched up with the various dishes.  In my opinion, Chip's assistance was vital because mating up wine and Chinese food is not an easy task. What follows is just a sample of some of the dishes prepared by Justin.
So, with the salt and pepper shrimp with cilantro sauce, which was tangy and perfectly cooked, Chip served up a delightful sparkling wine from South Africa, a NV Graham Beck.  The wine was light, fresh and clean, with just enough fruit to harmonize with the shrimp.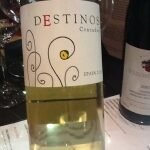 Next came glass noodles with black mushrooms, bamboo shoots and a sauce of Chinese sherry, vinegar and soy.  Chip paired this dish with a still wine from Spain, a 2010 Destinos Cruzados.  This wine was very refreshing and on the light side with a palate of fruits and minerals.  Once again the food/wine match was perfect, allowing the nuances of one another to come out.
Chef Justin then gave me a palate cleansing dish of jicama and pears which were raw and thinly sliced and did their job beautifully.
Justin presented another great dish of Mongolian lamb, purple onion, with mint and pistachio. This lamb was so
juicy and tender it literally melted in my mouth!  The lamb came from New Zealand and was previously marinated for hours by Justin's staff.  No typical lamb flavor here, just  explosive spice and earthy nuances. Chip paired this dish with a remarkable German Riesling, a 2003 Schloss Lieser which showed a beautiful smoky nose with spicy fruit and a bit of bark.
A few other dishes I had that you can explore for yourself are:
Jalapeno Miso Scallops, Garlic Chicken, Beef with Chinese broccoli, Shumai (pork, ginger and scallions).
All the dishes are prepared fresh, by hand and the wines are all delicate, so they don't overpower the food, rather they complement it.
So, if you are looking for a unique dining experience and enjoy Asian food, I would recommend stopping by the Red Lantern in Mammoth Lakes.
The Red Lantern's address is 248 Old Mammoth Road and their business hours are 5 pm to close daily.  Phone number is 760 934 9432.
This is Dennis Mattinson reporting for SierraWave Media.