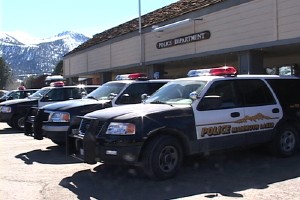 ** PRESS RELEASE ** PRESS RELEASE ** PRESS RELEASE **
Police Work- MLPD Style
Here is a story about police work that one San Diego couple will never forget.
During the last storm cycle, Mammoth Lakes Police officers were very busy with the usual weather related calls.  One call however stuck with them.  A tourist failed to negotiate a steep curve, and drove his truck off the roadway and down a steep snow bank.  Although the occupants were uninjured, it would prove to be a disastrous incident.  As the driver negotiated the deep snow to walk back up to the roadway, his wedding band slipped from his finger and disappeared into the freshly fallen snow.
Although plans were made to return the area when the snow melted, Sergeant Marc Moscowitz, Detective Doug Hornbeck and Officer Tim Smalley took advantage of a warm, spring like day on Wednesday.  During a lull in calls for service, the three MLPD officers drove back to the location of the accident.  Officer Smalley directed the officers to the location he believed the ring had landed.  Detective Hornbeck, using a metal detector he recently inherited from his father (but hadn't yet used), began searching for the ring.  After several minutes of searching and shoveling snow, they heard IT; the telltale sound that something was under the snow.  Bottle cap? Beer can?  They then saw the beautiful glint of someone's lost treasure sparkling in the sunlight.  They had found it!  After a quick phone call to the owner of the ring, plans were made to return it to him.  The owner was very grateful that the officers made the effort to look for his ring, and even more grateful that they found it.
Mammoth Police Chief Dan Watson commented on his men's thoughtful work.  He said, "I'd like to add that this is the type of service that small town policing provides.  I have encouraged our personnel to do whatever they can to solve a problem and not be satisfied with simply doing what is required.  This is a good example of MLPD personnel realizing that this gentleman's problem was not solved by conducting a collision investigation and getting the truck pulled out of the snow bank.  I commend Sgt. Moscowitz, Detective Hornbeck and Officer Smalley for going the extra steps to locate this person's ring.  The owner lives in San Diego and he will get his ring back next week when Sgt. Moscowitz will be in Irvine.   And," said the Chief,  "I'm guessing the owner is no longer in hot water with his wife."