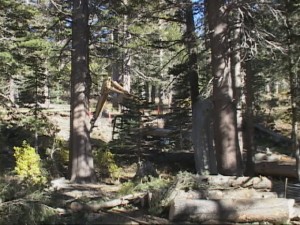 Projects continue in the Lakes Basin of Mammoth Lakes. The Town of Mammoth has virtually finished work on the bike path project. Meanwhile, the Forest Service continues work for an underpass as part of the larger bike path.
Mammoth Public Works Director Ray Jarvis said that the bike path project is progressing nicely. The pavement is complete and the original contract is essentially done, he said. Some work may have to be done next spring like striping and signage.
The underpass project amounts to major excavation of rock under the roadway. This is a Forest Service project paid for by stimulus funds. Nancy Upham of the Forest Service said that spies Construction hit a really massive amount of solid rock and has ordered a bigger vibratory drill to do the work. Once the excavation is done, a pre-cast concrete culvert structure will go in. Upham said engineers are happy with the progress.
Upham said next summer, they will build a trail bridge, 3000 feet of trail, bus shelters, a scenic overlook and terminal at Horseshoe Lake. She added that there will be 16 interpretive panels along the way and other signage. While work continues, Lake Mary Road is temporarily closed to all access from the northern intersection with Twin Lakes Loop Road to the southern intersection. Access to the Lakes Basin is still available by Old Mammoth Road or Twin Lakes Loop Road.