How much water will LADWP pump from the Owens Valley underground this summer? The process to arrive at a number has begun.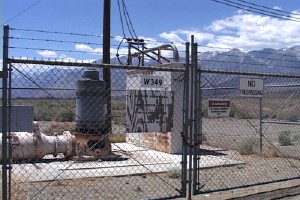 Acting Water Director Bob Harrington said that the current Interim Management Plan spells it out. Harrington said the two sides have agreed to manage pumping to maintain the April 2007 water levels, given the snowpack on April 1st of this year.
Harrington said, "We've read monitoring wells and it looked like the water levels worked pretty well." He said there were some water table declines in Laws since water spreading ordered in earlier years by Judge Lee cooper has ended. Other areas, Harrington said, have held pretty steady. Areas throughout the Owens Valley either went up or down less than one foot.
Next comes a run-off forecast and then calculation of a pumping plan. Harrington said he expected a rate in the low 60,000 acre feet. According to the Long Term Water Agreement, LADWP has to come up with a plan by April 20th. Then Inyo comments, a Technical Group meeting takes place and a final plan.
Inyo and LA agreed to a three-year Interim Management Plan while both sides re-examine how to manage pumping. They both discovered that the method in the Water Agreement was not working to protect the environment. So, 11 years after signing the Agreement, there is still no firm plan to manage pumping.