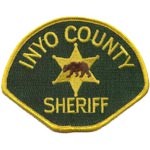 FOR IMMEDIATE RELEASE – (Inyo County Sheriff Press Release)
This morning at approximately 7:00am, a male subject was discovered unconscious behind the Village Café in Bishop by an employee of the Café.  The victim was airlifted to Renown Hospital in Reno, NV. According to investigations the victim is believed to be a transient.  At this point the victim's name is being withheld due to the ongoing investigation to determine the circumstances surrounding the victim's condition.
If anyone has any information linked to this case they are asked to call 760-878-0383.