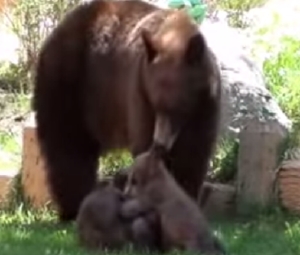 With a third drought in a row, Mammoth Wildlife Officer Steve Searles describes the current conditions as more like August than June, in terms of dryness and lack of natural food for the bears. Searles called it "uncharted territory." He's concerned for the bears and the community.
Earlier, Searles had made it clear that he would hand out citations this year to those whose practices invite bears to eat garbage. He has issued some citations to local businesses and an apartment complex. He said they responded well. Searles said 95% of the community does the right thing for the bears. It's just a few, he said, who sometimes don't. Said Searles, "I want to work with them, but if we can't fix the problem, Judge Eller will."
On the drought, Searles said he hasn't seen it exactly like this before. He said when he went to the Lakes Basin ten days ago, there was no forage for the bears. Now, dandelions have come in. That gives them something to eat. Searles said it's hard to know how the plants are going to respond to this third dry season, and that's what the bears normally eat.
If bears don't have forage, they go for human food. They have to survive. Searles said bears are all over the place now. He said in the last three days, he had to respond to three bears who had gone into homes. Although he has not been as tough as Tahoe on recommending locking up doors and windows and quickly hauling garbage away, this year, he said, he will buy into those kind of guidelines.
Searles said already he dealt with a situation in which someone had left a truckload of smelly garbage in a garage and left town. A mother bear pushed on one of the panels and got into the garage. Searles said this kind of thing can't happen. He said, "We have to live the right lifestyle or bears could be killed."
To appreciate some of Mammoth's local bears, go to Steve Searles Facebook page or YouTube.com/BearWhispererSearles.