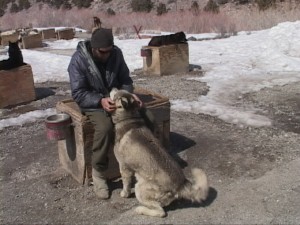 Between tethering laws and lease issues, the Mammoth Dog Teams dog sled company has faced an uncertain future. The company and the landlord, Mono County, appeared to make some progress at at a supervisors meeting in March, but the uncertainty remains.
Jim Ouimet has been in fear of losing his lease on the old Sheriff substation property south of Mammoth where he currently houses his sled dog business. Ouimet had rented month to month after a five year lease expired in 2008. Whether or not the county would continue to lease the property to Ouimet has been in contention in recent months. After a threat of eviction, Ouimet and the County are back on talking terms, but the Dog Sled Museum remains closed. Ouimet says that he is appreciative of the support that Mono Supervisors have given him so far.
Ouimet also faced a complaint that he is violating the state prohibition on tethering dogs. Sled dogs are a unique business for California and may not have been taken into account when the law was past in 2006. County Animal Control has pushed Ouimet to seek a legislative change or exemption from the tethering laws.
When we recently spoke to Ouimet, he said that he had been working with Assemblyman Tom Berryhills office to get an exemption and that at last word his paperwork was in Sacramento.
The Mammoth Dog Teams are done for the year. Despite the trouble, Ouimet says it was a great season.