The fate of Bodie State Historic Park is up in the air after the latest budget proposed by the governor plans to gut funding for state parks.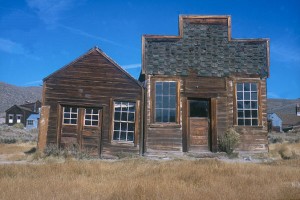 Right now, the state budget remains in flux and Bodie remains open, but if the governors budget threat goes through, only 59 of the 220 state parks in California would remain open. The two local state parks, Bodie and the Mono Lake Tufa State Natural Reserve would be closed under this proposal.
This newly proposed state budget is not set in stone, but park officials are on alert. Matt Green with Bodie State Park says staff wouldnt be good stewards if we didnt take the threat seriously.
Very few state parks actually make enough money to sustain themselves, Green explained. The Mono Lake Tufa State Natural Reserve is free to the public, but Bodie does charge admission. Green says that building upkeep, year round staff, utilities and other costs add up to more money than Bodie takes in at the gate. While the dollars and cents dont add up to enough to keep Bodie open without additional tax money from the state, there are other economic benefits to keeping the park open.
As many as 1500 people might visit Bodie on a busy Saturday like Memorial Day. Green explained that of those 1500 people 1400 might buy gas in Inyo and Mono Counties, 1000 might eat in the area, and 800 might stay the night. The fiscal impact is substantive, he says.
The potential impact of closing Bodie is not just a concern for park staff. With tourism the economic engine for the communities of the Eastern Sierra, the Mammoth Town Council is set to discuss the issue at their meeting Wednesday night.
Other State Park Officials say that closing the parks wont actually do much to solve the state budget mess. Sheryl Watson with the California State Parks reports that the entire budget for State Parks in California is only $149 million dollars, or about one tenth of one per cent of the entire state general fund. Watson reports that closing the state parks will do little to improve the state budget gap, but instead will hurt local economies which in turn will reduce tax dollars for the state general fund.
As the budget mess in Sacramento continues, Bodie and the Mono Lake Tufa Reserve remain open. Matt Green says that Bodie means a lot to staff, the visitors and the 400 people who belong to the Friends of Bodie group. None of whom are going to let the park close, he says.