The driver of a gold Honda sedan sustained leg injuries in an accident that happened right outside the Sierra Wave offices in the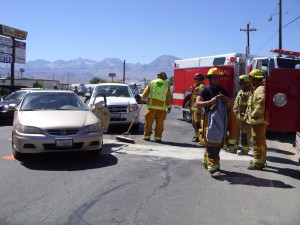 early afternoon of Saturday, September 11th.
At 1:36pm a white Ford SUV broadsided the Honda sedan as the driver attempted to make a U-turn on Wye Road just a few feet east of the intersection with Main Street.
Officers from the Bishop Police Department, volunteers from the Bishop Fire Department and Symons ambulance service all responded to the scene of the accident.
Wye road was closed briefly east of Main street while the emergency responders moved the SUV in order to free the driver from the vehicle. Paramedics took some time to lift the injured woman from the vehicle, stabilize her condition and place her in the waiting ambulance. She was transported to Northern Inyo Hospital and was released later the same day after treatment. The names of those involved have not been released. It is believed they were from out of our area.