Two new candidates have officially declared that they will run for local office in June.
Candidates cannot officially file to run for local office for another two weeks, but already there has been a lot of activity at the elections office in Mono and Inyo Counties as potential candidates take out petitions to run.
Taking out petitions in lieu of filing fees does not necessarily mean that a person is running for office, but it is considered a strong indicator that a person will run. While there is over a month before the filing deadline, other candidates have formally declared that they will run.
For Superior Court Judge in Mono County, Mark Magit had officially declared that he will run for the position in January. Magit has worked for Mono County for 18 years in various roles including his current job as Assistant County Counsel.He has also served as theChild Support Director and Deputy District Attorney in Mono County.
Attorney Randy Gephardt has now officially declared his candidacy for judge as well. Gephardt has been a Federal Prosecutorfor the Department of Justice and worked in private practice in Mono County for 20 years.
In the race for Mammoth Town Council there are three candidates that have officially entered the race. Tony Barrett and Rick Wood, both former council members, have stepped up to run. This week, John Eastman officially declared that he will run. In a statement to the press the long-time councilman says that he plans to run for a final four year term on the council.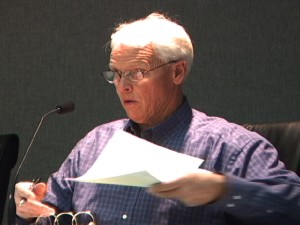 With three council seats up for election, Eastman says, after 'fighting the fight', and coming out as the minority vote much too often, I look forward that there is now a strong desire in our community to elect three council members who will bring about a change in council direction.
Eastman also stresses fiscal responsibility. When it comes to the Town budget, Eastman says, Even though our Town staff and the council have been generally financially responsible, there are still areas to make additional, sensible financial adjustments to the budget.
As the filing deadline approaches, there will likely be additional candidates to throw their hats into the ring. The filing period for local elections starts February 16th and with some exceptions, ends March 12th.