At the Bishop City Council meeting Monday night, three businesses were asking for approval to move forward with plans – from a big,new sign to a new gym.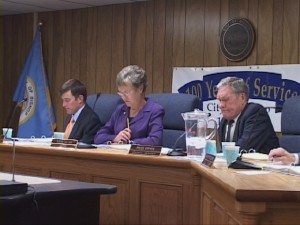 Kevin Mazzu, who owns the McDonalds on Main Street, asked for council permission to put a new 74 square foot sign on the side of the newly constructed play land structure. The new sign, plus the original signage, would add up to more than the allowable square footage for signs, but with a big blank wall there now, the council signed off on the plan 5-0.
Two other new businesses are hoping to get started, but have run into a problem that seems to be ongoing – a lack of parking.
Colin Broadwater and his wife hope to start a small Crossfit Gym in their garage on Clarke Street. Broadwater explained that this small gym would only accommodate three customers at a time, mostly in the early morning hours and evening. Crossfit is a relatively new strength training regime that has gained popularity. The home is actually zoned both commercial and residential, a holdover from the days before zoning. The council voted to approve the environmental review on the proposal for a conditional use permit 5-0. From here the proposal goes to the planning commission.
Tim Reid was there to ask the council to sign off on the environmental review for a conditional use permit that would set aside the parking requirements for a commercial batting cage at 186 Willow Street. Reid is the current high school baseball coach and says he has always wanted to own his own business. The council approved the environmental review 5-0. This proposal now heads to the planning commission on Thursday as well.