Back in May a fight broke out at Rusty's Bar in Bishop. The profile of the case shot up when Bishop Police confirmed that two Mammoth Police Officers were among those in the bar brawl. Five months later, the Inyo District Attorney has announced that his office will file misdemeanor criminal charges against four people in that bar fight, including the two Mammoth Police Officers.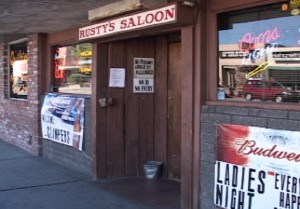 In a press release, the District Attorney Art Maillet said that according to witnesses interviewed during the investigation, "it all started when a group of people, including Mammoth Police Officers Eric Hugelman and Dan Casabian, left the bar. As the party went out the door," the DA said, "they became involved in a verbal exchange with another group of people who were about to enter the bar. The verbal exchange escalated into a physical fight involving at least seven people."
The DA said that in addition to the Mammoth Lakes Police Officers, he will file charges against Bishop residents Kehley McKenzie and Cody Coffman. All four face charges of disturbing the peace. Ms. McKenzie will also deal with two counts of misdemeanor battery.
DA Maillet said that the initial investigation in this case was conducted by the Bishop Police Department. He said investigators from the DA's office then took over the investigation. Between the two agencies, Maillet said, at least sixteen witnesses were interviewed, many of them two or more times.
When news of the bar fight went public, the two Mammoth Police Officers were placed on administrative leave. An internal affairs investigation seemed to lead to the termination of Officer Hugelman. Officer Casabian returned to work. I asked Mammoth Police Chief Randy Schienle about the charges filed. He said, "We've done our internal investigation. As a result, we meted out appropriate discipline to the officers. Eric Hugelman was terminated," said the Chief, "and Dan Casabian was disciplined." Chief Schienle said whatever happens in Inyo County, the officers will have to go through the court process.
Chief Schienle did confirm that a separate investigation was conducted on the Rusty's incident and another investigation dealt with other matters. Chief Schienle said disturbing the peace charges are not uncommon, but he said police officers are held to a higher standard.