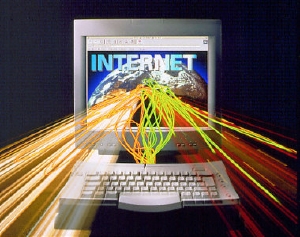 Frontier Communications is committed to getting 2-gigabyte internet service to Bishop by the
end of this year. That was the message delivered to the Bishop City Council and Inyo Board of
Supervisors meetings this week by Doug McAllister, Frontier's vice president of external affairs.
McAllister used his home base in Murrieta and the COVID restrictions as an example of the
relatively new demand for, not just connectivity to the Internet, but lightning fast, high capacity
Internet service. With everyone working from home, the need for all of the above was obvious
in urban centers, the suburbs and the Eastern Sierra. While businesses are re-opening, those
whose jobs are wrapped around computers realized they could continue to tele-commute.
For those who started their work life on electric typewriters and land lines, here are some
definitions. Fiber networks, like Frontier, use thin flexible fibers with a glass core through which
light signals can be sent with very little loss of strength. A byte is a unit of digital information
most commonly consisting of eight bits, the smallest, addressable unit of memory in many
computer architectures. A gigabyte is equal to about 1 billion bytes of data.
The advantage of the Frontier system is both speed and capacity. Transmission will be primarily
overhead using existing infrastructure. McAllister stressed there would be little digging to set
up the infrastructure since the company has access to the existing transmission system—poles.
"Seventy-five percent of the system will be aerial," he said, "25-percent will be buried."
Multiple devices connecting to the system won't be an issue, according to McAllister, who
noted the average home has a total of 22 devices dependent on Internet transmission systems.
Frontier's system consists of fiber distribution hubs connected to fiber terminals that serve
from four to eight customers, then straight to each customer.