USFS news release
Two new fires east of Highway 395
Crews are responding to two new fires on or near the Inyo National Forest. Both are east of Hwy. 395.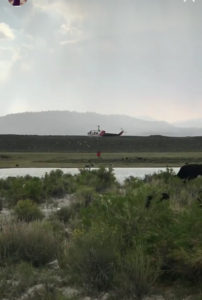 The Owens Fire is estimated to be 500 acres. It is burning along the Owens River Road, which is east of the June Lake area. The fire grew rapidly with strong winds and is burning predominately in sagebrush. Crews, engines, and dozers have responded and have been supported by aircraft with water and retardant drops.
The Owens River Road is closed. There is an evacuation advisory for Big Springs Campground, Inaja Ranch, and the Arcularius Ranch.
The Hot Creek Fire is burning near Hot Creek, east of the Mammoth Lakes Airport. It is estimated to be 500 acres. It was also pushed by gusty winds in sagebrush. There are numerous crews, engines, and a dozer committed as well as aircraft support.
The Antelope Road and the Hot Creek Road are closed. Please avoid the fire areas so the firefighters can safely respond to the fire.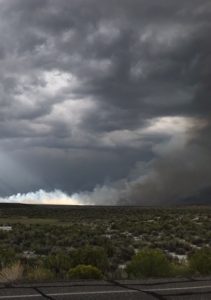 More resources are on order.
Crews will staff these fires throughout the night in an effort to start containing these fires. They hope to take advantage of the evening when winds typically die down in the Eastern Sierra.
Both fires are highly visible from Hwy. 395. There was substantial thunderstorms activity in the area.
Response is from numerous local agencies.