Two teenage girls, both residents of France, died after a tragic vehicle accident in Death Valley National Park Saturday afternoon. From the Highway Patrol report it appears that the driver, a 31 year-old woman from France, fell asleep at the wheel of a 2009 Ford van, while driving a tour group toward Furnace Creek on Highway 190.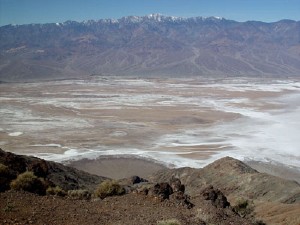 There were six passengers in the van. All six were residents of France and between the ages of 15 and 17. When the driver fell asleep, the vehicle ran off the roadway and onto the shoulder. The driver than overcorrected and steered left across the oncoming lane of traffic in a four wheel skid, officers report. The van struck the embankment on the other side of the highway and overturned several times before coming to rest on its roof.
Highway Patrol officers report that none of the passengers was wearing a seatbelt and at least three passengers were ejected. A 16-year-old female and a 17-year-old female who were ejected, both died from their injuries. One was pronounced dead on scene, the other died at UMC Las Vegas. Four other passengers, including the driver, suffered what officers described as major injuries.