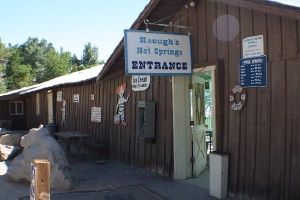 Two local men were arrested Monday morning after a failed burglary and vandalism at Keough's Hot Springs, south of Bishop and after they called deputies to report a hit and run.
John Brightwell, age 26, and Jared Elbers, 20, both of Bishop, are being held at Inyo County Jail in Independence on charges of probation violations, felony vandalism and conspiracy to commit burglary.
Inyo County Sheriff's Department Sergeant Doug Richards said the manager of Keough's heard a window break about 11:30 p.m. Sunday, and investigated the noise. The suspects were "startled" and fled in a truck down Collins Road, Richards said.
Keough's manager followed the suspects at close range, attempting to get a license plate number. Richards said "there were three attempts to get close enough to the vehicle, each time the suspects would slam on the brakes of the truck, resulting in three separate collisions. The final collision ended with the victim losing control of his vehicle and striking a tree."
The Keough's manager walked approximately three miles to a residence on Collins Road after the accident. He was treated at Northern Inyo Hospital in stable condition.
The suspects were apprehended after they placed a phone call to law enforcement and reported themselves being victims of a hit-and-run.
Inyo County deputies had already heard of the Keough's incident, and arrested Brightwell and Elbers. Brightwell was also charged with driving under the influence.