BPD news release
On June 4, 2019 at approximately 5:00 P.M., the Bishop Police Department received a tip that a wanted male subject was seen on foot in the area of E. Yaney and Main Street. BPD Officer Henry arrived a short time later and observed the male get into the passenger side of a gold Nissan Altima. Officer Henry initiated a traffic stop on the vehicle, and as he attempted contact with the female driver, the driver accelerated the vehicle and drove off.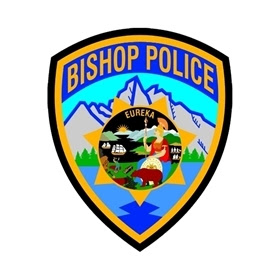 Officer Henry activated the overhead lights and sirens of his patrol vehicle and the driver failed to yield. The suspect vehicle continued traveling northbound on Main Street and through several residential county streets, all while traveling at high rates of speeds, running several stop signs and a red light, nearly causing one traffic collision. The suspect vehicle almost collided with a patrol vehicle before it finally stopped in the 200 block of N. Barlow Lane.
Once stopped, the driver ran from the vehicle and into a residence. The male passenger ran from the vehicle but was taken into custody. Units from the Bishop Police Department, Inyo County Sheriff's Department and the Bishop Paiute Tribal Police Department were able to enter the residence and take the female subject into custody a short time later.
LADALE FRANK HERNANDEZ, age 41 of Bishop was charged with resisting
arrest and a weapons possession and booked at the Inyo County Jail for his felony warrant.
TIARA MARIE KINNEY, age 29 of Bishop, was transported to the Inyo County Jail and charged with felony evading, resisting arrest, possession of a controlled substance, and driving on a suspended license. Kinney also had felony warrants out for her arrest.