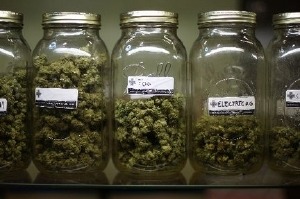 The Mammoth Lakes Police Department has received two applications for a permit to operate a medical marijuana dispensary in the Town of Mammoth.
Voters had approved an ordinance that allows two dispensaries in Town with guidelines on where they can be located.  Initially, the Planning Commission did grant permits to Steve Klassen and to Robert Calvert.  When the US Attorney's Office launched a crackdown on dispensaries in California, Klassen eventually chose to close his dispensary.  Calvert's Mammoth Lakes Wellness remains open.
Mammoth Police Chief Dan Watson asked the Town Council to consider a moratorium on issuing the second, available permit to allow some of the legal controversies to resolve. Even though California legalized medical marijuana, the federal government did not. Several court cases are pending. However, the Town Council chose to support the vote of the people of Mammoth and make the permit available.
The application process closed last week.  Chief Watson said two people applied – Don Wright, Jr. of Mammoth Lakes and David Mogg of Lancaster.  The Chief explained that his department determines if an application meets the requirements of the ordinance.  If they do, they go on to the Planning Commission, who decides which applicant will get the one available permit.
The review and decision could take a few weeks, according to the Chief.