The two people who survived a brutal helicopter crash last week have been identified as Robert and Nadine Durham. It is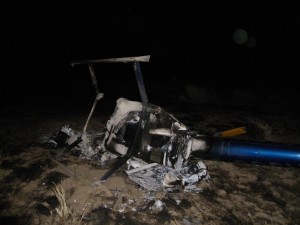 unknown where they came from. It is known that they crashed their helicopter in the Taylor Canyon area of the Glass Mountain range.
The Mono Sheriff's Department provided us with photos of the wreckage. Amazingly the pilot, Mr. Durham, got out of the wreckage and walked into the Benton Fire Department. He told them that his passenger was still at the crash site suffering from extensive injuries. Mono Paramedics and Care Flight rushed to the area which was identified as the McLaughlin Springs area. The pilot and passenger were flown by Care flight to Renown Medical Center in Reno.
The Durhams had apparently fueled their chopper at Bishop Airport and were headed to Truckee. The accident remains under investigation.